Plastic Worm Gears
We supply worm gears and gear related products with best quality and price. The plastic worm gear related products include worm gear valve drives, worm gear pumps, worm gear linear actuators, etc. Compared with spur gears, worm gears can offer quieter force driving.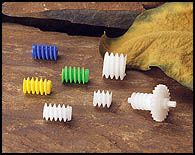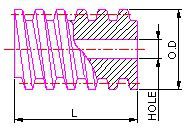 Features of Worm:
High efficiency
Irreversible motion
Good for Compact design
High load capacity
Reduced vibration and noise
Specifications:
| | |
| --- | --- |
| Type | Worm |
| Module | M0.2 - M2.0 |
| Material | Polyacetal (POM) / Nylon |
| Bore | Ø1.40mm/ Ø1.90mm |
| Outer Diameter | Ø4.0mm/ Ø5.0mm/ Ø6.0mm (Flexible) |
| Length | 6.0mm/ 8.5mm/ 10.0mm (Flexible) |
Inquiry: Please provide gear specifications.
Yeh Der provides handmade/ machined custom gears, so tests of gears can be done before mold making.
Our plastic gears meet all kinds of needs for laser printers, digital cameras, scanners, CD-ROMs, stepping motors, medical equipment, vending machines, gear pumps, household appliances, fax machines, watches, toys, etc and for other specialized products.
About Plastic Gears
A gear is a toothed wheel designed to transmit force to another gear or toothed component. The teeth of a gear can be shaped to minimize wear, vibration and noise, and to maximize the efficiency of power transmission.
Gears of differing size are often used in pairs for a mechanical advantage, allowing the torque of the driving gear to produce a larger torque in the driven gear at lower speed, or a smaller torque at higher speed.
The Advantages of Plastic Gars:
Plastic gears are easily molded into various shapes so they have wider range of configuration.
Plastic gears are less expensive and are lighter in weight.
Plastic gears are chemical and corrosion resistant.
Plastic gears have quieter and smoother operation and offer more efficient drive geometry.
Plastic gears are with inherent self lubricating.
While plastic gears offer these many advantages over metal gears, their effective use requires proper design and engineering to account for possible dimensional and property variations over the expected range of operating conditions.